1 year ago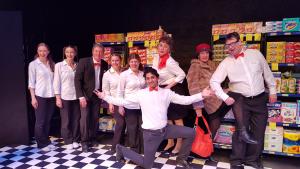 Introducing the world's first post COVID-19 musical set in a suburban supermarket a year after the pandemic.
In Pricecheck! The Supermarket Musical staff and customers do their best to make meaningful connections in a world full of differences, whilst suffering the pressures of their own lives.
They include a profit hungry store manager struggling with a bitter divorce and bad dance routine, a new Indian immigrant who is nuts about fruit and veg, a customer banned for hording toilet paper during the pandemic, and cranky customers.
Act 1 is set in September. Act 2 in set in Christmas in October preparations.
"This musical is just packed to the cereal box top with pure, unsaturated fun." Glam Adelaide.
Read the script and sample the music here.