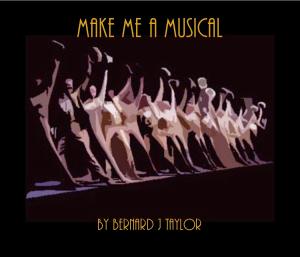 A modern backstage comedy with a Faustian twist and a cynical view of showbiz.
Loosely based on the Faust story it is set in the context of a "backstage musical" which embraces many of the clichés of the genre - and turns them on their head. It could almost be described as a something of a parody musical, with some elements of pastiche and with its tongue firmly In its cheek.
It was created to be a high-energy show, with more than its share of high kicking chorus numbers, but the score also includes some tender ballads and some funky, jazz numbers which reflect the story's New York setting.
"The show has Broadway written all over it." Broadway World April 2016
Authors
Related Shows
Photos
Plot / Synopsis
The story revolves around the rehearsals of a new Broadway called "Success!" It begins with the auditions for the show - and if anyone is reminded of the opening scenes of "A Chorus Line", this is entirely calculated. "A Chorus Line" is just one of the classic musicals at which "Success!" takes an affectionate sideswipe.
Robert Ponsonby, the show's rehearsal pianist, dreams of being a song-writer, but feels he will never make it because he lacks "street cred", being a white Anglo Saxon male with no minority status and no suffering to speak of. During rehearsals, he becomes friendly with one of the chorus girls, Angela Goodall. He is thrilled when she enthuses about some songs he has written, and they begin to fall in love.
Robert is approached by Cedric E. de Ville, a powerful New York agent. De Ville offers to be Robert's agent and manager and promises to make him the most successful song writer in America - provided Robert agrees to do everything De Ville asks him to. "What you need is a formula, kid, and I can give it to you." "With the right type of hype you can do very well."
Robert succumbs to the blandishments of De Ville, while Angela becomes increasingly dismayed by this turn of events. She is even more dismayed by the changes she begins to see in Robert himself, as he turns from the innocent and unassuming (albeit rather naive) person she first knew into an egocentric monster.
This personality change is engineered by De Ville in scenes that are the flip side of Eliza Doolittle being changed from a flower girl into a lady by Professor Higgins in "My Fair Lady."
De Ville engineers a plot to remove Robert from the influence of Angela and send him into the arms of Stella Hudson, who is completely under de Ville's control. Robert is left with the impression that Angela has been cheating on him and becomes easy prey to the machinations of the evil duo.
Will Robert discover the truth? Will he and Angela be re-united? Will he return to writing the kind of music that Angela had so admired? No prizes for guessing the answers to these questions.
Cast
Principal Characters:
Cedric E De Ville - Middle-Aged, Oily, Raffish
Robert Ponsonby - 30s, Nerdish but Nice
Angela Goodhall - 20s, Love's Young Dream
Stella Martin - Thirtyish Vamp
Secondary Characters:
Juanita Fitzgerald - Sassy and Cynical Irish-Hispanic New Yorker
Gloria Glitter, transgender
Nigel Hudson - Fading Star
Barry - Slightly Camp Director of the Show
Michael "Ethel" Barrymore – an older auditioner
Chorus (Minimum Of 8)
Including Named Characters:
Riff Winkler, Jerry Obenstaller, Miguel, Gordon
Sample Script
Instrumentation / Rentals
Cello. Flute. Clarinet. Guitar. Harp.Horn. Keyboards. Marimba. Percussion. Saxophone. String bass. Timpani. Trumpet. Vibrophone,Violin 1 and 2, Xylophone.
Production Costs
14% of Box Office