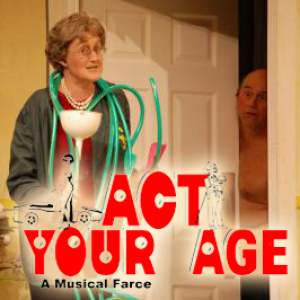 A Musical Farce for your mature cast described as " a rare combination of wonderful new music, belly ache humour and farce."
Celebrity Sanctuary is a clinic that offers relaxation for A Listers. It has however, fallen on hard times. When the owner, receives a call from "Victoria's agent", they are delighted, but this quickly turns to concern as they realise that they cannot now provide all the facilities that are expected.
To see a wonderful video about the show, read a script and listen to music...visit this site.
But remember all bookings in Australia and New Zealand are conducted by David Spicer Prouctions.
Authors
Photos
Cast
Principals (4m, 10f)
Valerie - 50-60, the owner and manager of Celebrity Sanctuary
Pat - 30-50, Valerie's loyal retainer, optimistic, resourceful and practical, unsophisticated
Melanie - 40+, a patient at the Sanctuary, D-list celebrity with pretensions of being A-list (**)
Angela - 40-55, a patient at the Sanctuary, an ageing nymphomaniac (==)
Mrs Hewitt - 30+ the Manager of Sunny Seniors Old People Home, likes discipline, a control freak
Iris - 60+, pretends to be ga-ga, in reality is a clever jewel thief, the home is a cover for fencing
Joan - 60+, reasonably compos mentis, friendly, helpful, a bit chaotic, has bladder problems
Joanna - 60+ , also compos mentis, efficient, a natural leader, becomes the old folks spokesperson
Josephine - 60+, another reasonably compos mentis person, slightly cynical and subversive
Jenny - 20-30, estranged daughter of Valerie, wants to secretly meet before revealing herself
Reporter - 20+ (male), incompetent but thinks otherwise (**)
John - 20-40, Jenny's jealous fiancée (==)
Mario -25-40, a gigolo, Angela's latest paramour (==)
Photographer - 20-40, would much prefer to be a fashion photographer
Notes :
(==) the person playing this role must be comfortable to appear on stage dressed only in a towel
(**) the person playing this role must be comfortable to appear on stage apparently naked behind a towel
Support (5m, 3f) All are speaking roles only
Betty - 60+, once a servant in stately homes, is mistaken for an ageing courtesan
Ellen McDonald - 60+, somewhat confused, thinks she is 'Victoria', cooks with inappropriate ingredients
Mrs Cousins - 92, an 'inmate' at Sunny Seniors
Joe - 60+, an 'inmate' at Sunny Seniors, somewhat lascivious
Gerry Jackal - male, 25+ (but should be ten years younger than Melanie), a jewel thief
The Workman - male, 25+
Adrian Cousins - 55-65, Mrs Cousins son, desperate to be associated with celebrities
Policeman - male, 30+
Chorus of Old Folk, Police, etc.
Instrumentation / Rentals
Piano, Keys, Drums and MD. Now also available with CD backing track.
Production Costs
14% of Box Office.